Seasons Bleedings: Don't Overlook this Drive.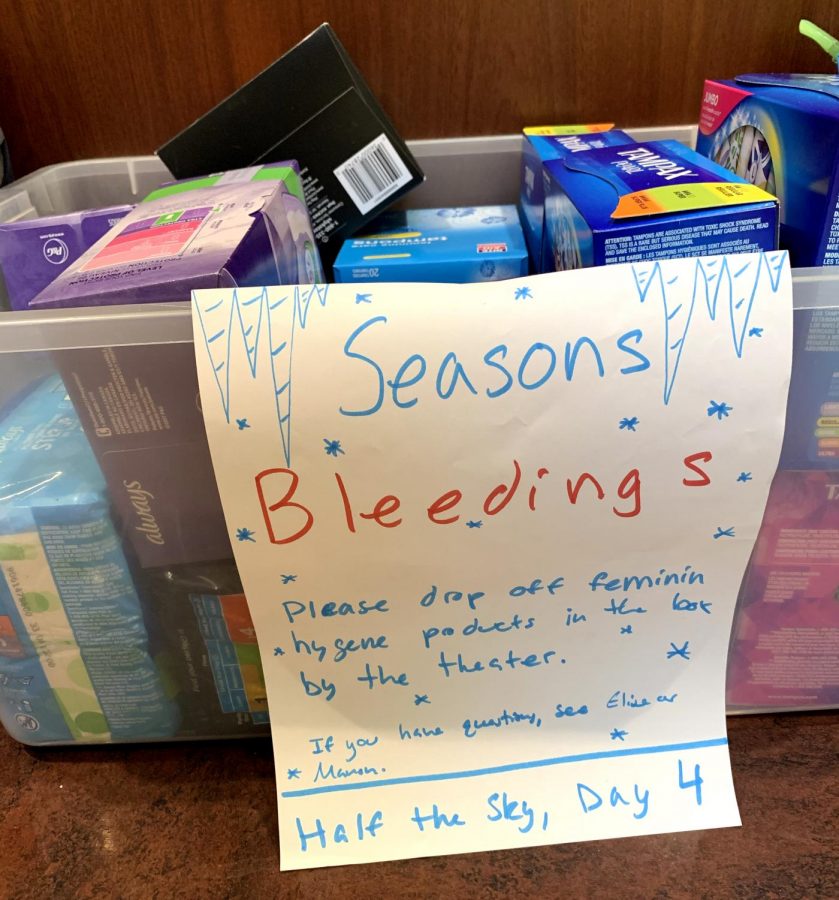 Half the Sky, a WFS club dedicated to promoting gender equality, raises awareness of the issues women face compared to men through their tampon drive. Half the Sky acknowledges how a woman's necessities may be downplayed compared to a man's, which is shown by taxation on an essential product designed for women, tampons. This tax is otherwise known as the 'pink tax.' The Half the Sky club provides support by donating tampons to women in need by holding its annual tampon drive, "Season's Bleedings", which has been around since the club was established. Coming from a very privileged society, feminine hygiene products may be hard to come by for women in privation, which the tampon drive helps support. All the proceeds go to a local women's shelter, Ministry of Caring.
One of the club's clerks, Manon Magnon de Bellevue '21, had discussed visiting a period rally at the University of Delaware earlier this school year with Elise Johnson '21. This rally featured speakers who discussed the government's neglect of women's necessities. The rally detailed the ways in which the government still taxes tampons for women, yet Viagra for men is free of tax. The disregard for the health of women and the subsequent support for that of men has cultivated inspiration amongst the members of this club to help women in need in our local community. 
The importance of this club is to provide support to women in need, yet also spread awareness of the inequalities women face compared to men. The avoidable hardship of taxation on feminine hygiene products is neglected by the government as it is seen as inherently unimportant. There is a profound equality barrier when it comes to the existential divide between men and women with regard to the pertinent issue of general health.  An easy, temporary solution to this problem would be a small, generous, donation to a local women's shelter such as the Ministry of Caring. These donations can even be done through this club. A small donation box, located directly outside of the theater can help a group of people in desperate need. The importance of this issue tends to be overlooked by many. Although it may not affect some, many women suffer from not being able to afford these sanitary products. The support these women get from clubs such as Half the Sky, who not only recognize these issues but take action on them, truly does help. Yet, the more effort put in, the better the results will be for the women on the receiving end. Even a small donation can truly help these ladies who will appreciate the kindness and effort put in.
The Ministry of Caring is not the only organization Half the Sky partners with in order to support women in need. Beads for Life, another group associated with Half the Sky target their support to women in Uganda. Half the Sky's clerk, Manon Magnon de Bellevue '21 says "Beads for Life helps the women in Uganda by making bracelets and necklaces which are sent to Half the Sky. Half the Sky sells these bracelets and the profits go back to the women in Uganda." The work put in by Half the Sky in order to provide support to women not just locally, but more broadly has not gone unnoticed. 
Analisa Nichols '22 commented on the tampon drive noting "these hygiene products can be expensive, yet most drives are for clothes. It is nice to consider a struggle that is not often talked about." The recognition Half the Sky has for these issues can be rare, as most drives may focus on other commonly donated items. Sidney Belleroche '23 also paid his respects to this club saying "It is nice that they are donating. This could really help women in need of these supplies that can be hard to find." Ms. Kampert also commented on this drive calling it a "wonderful effort" on the club's part. Ms. Kampert has had personal experience regarding women not having equal opportunities regarding tampons, and commented: "a lack of resources should never be a reason for a student to miss school or to not be able to participate in activities." The support for this club and its drive can be greatly acknowledged by making a small, simple donation to the tampons box outside of the theater. Now knowing the background, you can see a small donation can go a long way and can mean a lot to a woman in need.