Summer On the Other Side of the World!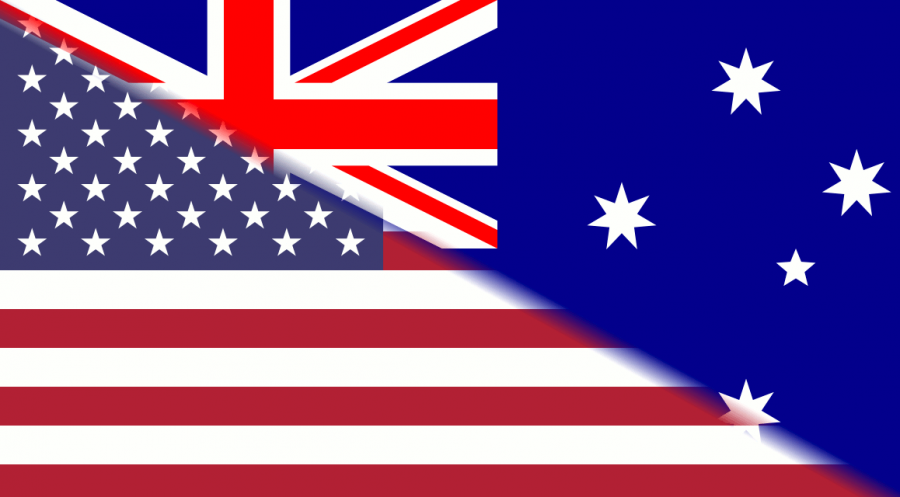 Cross-cultural experiences have long been a staple of Quaker education at Wilmington Friends, and this summer, Caroline Vanderloo '22 became the first student from Wilmington Friends to participate in the exchange program with Hobart Friends School in Tasmania, Australia. Vanderloo, along with three other students from Abington Friends, went to Tasmania to experience Quaker life in the Land Down Under (Colloquialism for Australia) for a month this summer. And then, this winter, Caroline's Tasmanian 'counterpart,' Eloise Underwood '22, visited Wilmington Friends in a similar fashion. 
The project was conceived several years ago, as an initiative of Hobart Friends. The concept was simple: since the northern hemisphere and the southern hemisphere are always undergoing opposite seasons, a student could complete ninth grade, and then travel to Hobart Friends in the northern summer – or southern winter – to experience school there without missing classes back home. "One of the advantages of the program," Mr. Benner, the Wilmington Friends coordinator of the program, said, "is that students can experience a different culture in the summer and not miss any school themselves." Initially, the exchange was limited to only a few Quaker schools in the United States, such as Abington Friends and Sandy Spring. But recently, it began to expand, encompassing several other schools, including Wilmington Friends. 
Each summer, a couple of students from every school associated with the program travel upwards of twenty-four hours, on multiple flights, across multiple continents, to reach Australia, Land Down Under. There, they spend four weeks engaged in all the rigors of regular school life: academics, sports, and extracurriculars, with a little sightseeing on the side."Another of the positive aspects of the trip," Benner said, "is the shared Quaker experience that these students have in common with those at Hobart Friends." Exchange students are encouraged to take advantage of the extensive opportunities available at their host schools; Hobart Friends offers sports such as crew and Australian football. They try new things and find experiences that speak to them, and they can then bring those ideas back home, and implement them there. In this way, the program strengthens all communities involved via the transfer of ideas.
While school in Tasmania might seem at first very different from school in the U.S., there are actually several surprising similarities between Hobart Friends and Wilmington Friends. Hobart Friends was founded in 1887, and so although it's young compared to Wilmington Friends, it remains the largest Friends school in the world and the only one in the southern hemisphere. The school incorporates the same Quaker values as Wilmington Friends does. Students at HFS participate in Meeting for Worship and generally experience all of the same rigors in the classroom and on the sports field. Service, mindfulness, and creativity are central philosophies at both schools. Like WFS, HFS also has a thriving IB program, and both schools offer extensive extracurricular opportunities in service, music, and athletics. 
Vanderloo had an amazing time in Tasmania. "Each weekend I was able to take trips to see some of the most memorable parts of the island," Vanderloo said. "Some of these included hiking through Shipstern Bluff, visiting the Museum of Old and New Art (MONA), and exploring the top of Mt. Wellington." Hosting Vanderloo in Tasmania was "really easy," Underwood said. "It was just like having another sibling."  The two became fast friends during the experience, and their friendship continued this Winter when Underwood came to Wilmington Friends as the reciprocal of the program. "My favorite part of this trip so far," Underwood said, "has been getting to know all the amazing people that go to Wilmington Friends and the way they do things around here." She had a wonderful time, from making new friends to participating in sports to traveling around the state. "Something surprising to me was how similar things are here to back home," she said. That's the beauty of the program: whether you're in the U.S. or Tasmania, Quaker education doesn't change. 
Underwood, however, notes differences in school hours (HFS starts at 8:30 and ends at 3:45), sports requirements (sports are not required there), and school culture in general. "One of the main differences I've noticed is people's willingness to learn," Underwood said. "Back home at my Friends school you would be pressed to find someone that shows up to class five minutes early, whereas here that's how most people roll." And since Hobart Friends doesn't require students to participate in school athletics, many students just go home after school, whereas at Wilmington Friends many students linger to talk with their friends (no pun intended). Hobart Friends also doesn't have a cafeteria, so students there spread out all over the school "There's just a very different culture here," Underwood said. And yet it's so vital that we have these experiences, because of the wonderful contributions to the schools' communities.