Quaker Cares: Steps Toward Mental Health Awareness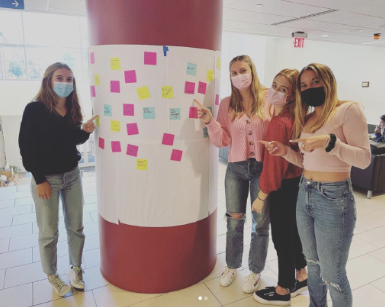 Mental health is finally gaining the attention it deserves at Wilmington Friends. Last year Grace Terrell '24 and Kira Agne '23 both inquired about the lack of resources in the school for dealing with mental health, and at the end of last year, they created the Quaker Cares club. Aaron Hockstein '24 described it as a club that "Is all about making sure students aren't overstressed, and it tries to bring awareness to the importance of mental health." Danielle Litterelle is the faculty sponsor. Litterelle is the new Upper and Middle school counselor. She said her role is "to help the members learn techniques and strategies when dealing with mental health topics." 
November 3rd was National Stress Awareness Day. To help students, the club decorated the pillar outside the Java Nook with post-it notes. They wrote short, motivational messages to boost the morale of students and make an otherwise ugly support beam interesting. Members of the student body were included as well. During break the members of the club went around to the different places where students eat and encouraged them to write their own sticky notes to put on the pillar. Some examples of messages students shared were " You've got this", "You're strong" "Go Girlboss", and "You're more than a grade."
November 13 was World Kindness Day. On the 10th, the club led a meeting for worship and shared queries that had themes of kindness, thankfulness, and togetherness. The school also celebrated World Kindness Day the Friday before by dressing in comfortable clothes. Danielle Literelle sent out an email that gave examples of ways to show kindness throughout the day. Some of those were to say hello to someone in the hallway, write a thank you note, or say something kind to a classmate. Both World Kindness Day and National Stress Awareness Day are just sneak peeks of what Quaker Cares can do. 
Plans for the future include creating a mental health bulletin board that has access to resources and good mental health strategies, sponsoring fundraisers, and continuing student-centered wellness discussions. Kira Agne '23 said, "The club is planning to create activities practicing mindfulness." The biggest idea the club is working on is planning what the school is going to do for Mental Health Awareness Month in May. Literelle plans for at least one day in the month to be dedicated to bringing awareness and giving students resources and information about stress. 
The club welcomes anyone who is interested. Quaker Cares currently has 32 members and is still growing. They meet on Day 3s in Mrs. Bailey's room, and the members of the club want to remind everyone that it's ok to not be ok and that there is always someone willing to help.