Eternal Atake: A Review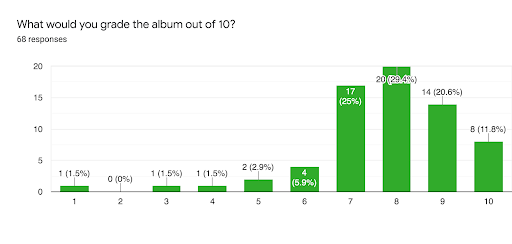 On March 6, 2020, hip hop artist Lil Uzi Vert (Uzi) released his second studio album, Eternal Atake (EA). After 2.5 years of rumors and vague promo, fans were pleasantly surprised to hear Uzi announce EA's release date on his Instagram live. Fans were ecstatic once it actually released two weeks later. According to various media outlets including Forbes, Billboard and Complex, the 18-track collection is projected to debut at #1 and accumulate 325k units in first week sales. It would be the 25 year old's second #1 standing debut behind 2017 album Luv Is Rage 2, which sold 125k in its first week and eventually went double platinum. As expected, EA has amassed mixed reviews throughout the hip hop fanbase; some positive, others negative, and many that are relevant to the overall album, but unrelated to each track. Amidst a sea of opinions, analysis, and debate, I chose to take a deeper listen to EA and deduct my own conclusions. In addition to the opinions of those throughout the Friends community, here is my unbiased, unopinionated, non-expert review of Lil Uzi Vert's Eternal Atake. 
     Sonically, EA may seem quite familiar to avid Uzi listeners, as there are several tracks that are reminiscent of his earlier works. However, thematically is where his artistic liberties are most noticeable. Most of Uzi's past discography, almost generically, addresses love, pain and the vices of rap stardom. EA does much of the same, but adopts an extraterrestrial overtone that adds intrigue to otherwise conventional hip hop subject matters. The outer-space themed narrative was initially conveyed during EA's promotional roll out. First, on July 13, 2018, when Uzi shared EA's original cover art; a design consisting of a galactic background and the words "Eternal Atake" written inside a keyhole…a nod to the American UFO religious millenarian cult, Heaven's Gate. Additionally, the new album's cinematic pre-release trailer shows Uzi ditching his office job and being abducted into a dark universe by aliens. A handful of skits throughout the album further execute this storyline, but so does the album's format, which is confirmed by Uzi to be split into 3 parts that correspond to each of his alter egos. The space travel theme is overarching, but there are still a number of plausible narratives that can be recognized. Some say EA is an allegory for Uzi wanting to leave his record label (Atlantic Records), while others speculate that it is a musical representation of his love for anime (Japanese animation). I think it's reasonable that all of these themes apply to EA, but nonetheless, these thematic elements that Uzi incorporates put an interesting twist on the conventional misogynist/materialistic motifs that he and others throughout the hip hop genre often employ. 
     As stated before, despite the interstellar overtone, the sonic elements that are used in EA are mostly recycled. Where other artists progress by constantly renovating their sound, Uzi falls behind in EA by showing little development from his last full length album. Where rappers such as Young Thug and Travis Scott thrive by utilizing various vocal inflections and psychedelic elements in projects such as So Much Fun and Astroworld, Uzi fails in EA by using the same whiny, generic, one dimensional delivery that he always has subscribed to. 
     Along with reaffirming skits, the exhibition of outer space relies heavily on the sounds of the upbeat laser beam, shooting stars, and spaceship-esque bleeps that are implemented by production. Lyrically, the themes and tones are seemingly invisible, as the lyrics and word play combine with production in a way that can only be described as "redundant Soundcloud trap-rap meets Star Trek".
     As confirmed by Uzi, EA can be split into 3 parts that represent each of his personas. Tracks 1-6 represent his "Baby Pluto" alter-ego, and features generally tracks more aggressive in nature. Tracks 7-12 convey a more compassionate version of Uzi."Renji", and the rest of the album represents younger Lil Uzi Vert. EA lacks significant lyricism and caters to an overused Uzi sound, but it is hard to deny its replay value. My favorite tracks are POP, Celebration Station, and Bigger Than Life. I predict these and several other tracks to become fan favorites that will go on to become well received at concerts and music festivals. 
     I conducted an online survey to gage the student body's opinion of EA. The graphed data (below) shows that of the 68 upper schoolers who responded, a large percentage either really liked EA or felt that it was just okay. This was not only represented quantitatively when most graded EA a 6/10 or above, but also during informal conversations with peers about the  new album. Interestingly, when asked what their favorite tracks were, those who liked the album tended to choose the more aggressive tracks, while those who felt that album was just okay gravitated towards those that were more mellow. While many students seem to like EA and expect it to be successful once performed live, it was still interesting to see that a large percentage did not prefer it over Uzi's previous albums and EPs. 
     I like EA, but not for the reasons you may think. Many believe that EA did not live up to the 3 years worth of hype, but to me, Uzi delivered exactly what I expected. I like the outer space theme and think it adds a twist to the recycled hip hop motifs that are discussed, but I recognize how promotion and hype may have led fans to anticipate something more. I did not have super high hopes for EA, but I think that Uzi succeeded in his latest album by simply doing what he's good at: creating catchy, yet basic tracks with recycled 808 bass lines and dull lyrics. These tracks are the ones that top charts and invigorate mosh pits at music festivals like Coachella. EA is not an album for musical aficionados, like traditional hip hop connoisseurs such as Mr. Morton, who emphatically stated that "Lil Uzi Vert may quite literally be the worst thing ever." Uzi's music and its familiars are meant for the new generation of hip hop listeners who appreciate the beats more than the bars. The younger generation of music listeners could care less about the message or messages, so long as it sounds good at maximum volume through the speakers of their cars. All in all, I give Eternal Atake an 8/10 on the grounds that Uzi creatively delivered exactly what I expected, and despite all of the criticism, I predict it will garner more appreciation and cultural significance in times to come.