Concerts In Our Area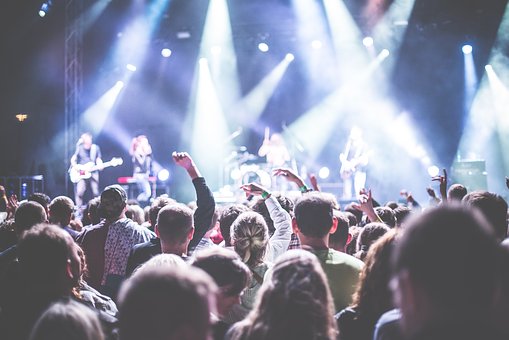 Lilia Machado, Entertainment Editor, Photo Editor
October 12, 2019
     Nothing beats live, local music, right? Heavy bass exploding throughout your chest, rowdy strangers swaying too far into your personal space, and unrighteously overpriced band t-shirts all blending into an unforgettable experience that often goes way past your bedtime. Throw in all of the grainy videos you take while shamelessly crooning along to your favorite artist, and I'm sure that you can relate to one of these aspects of concert-going. 
     Concerts and live music can have an adrenaline producing and stress reducing effect on the body. Sure, if you aren't a crowd person, it's understandable. The more laid-back Philly venues like The Fillmore or Union Transfer have much to offer to those with alternative, indie, and all out niche music tastes with a hatred for ear crushing tunes. If you prefer larger settings, check out the MET Philadelphia or the Wells Fargo Center for some heart-racing, sweat-inducing shows. With the "City of Brotherly Love" being only 50 minutes away, Philadelphia offers easily accessible live music to the greater Wilmington area and music lovers alike. 
     According to our most recent Instagram poll, 32% of Friends students reported that they have or will attend a concert at the MET Philadelphia. The MET Philadelphia hosts well known names spanning the reaches of the music industry in bustling Center City. Tomas Vebulinas '20 noted that "it made sense to go to Philly because it was relatively close. I would go to another concert in Philly!" and when asked why he would go again, he responded with, "I guess [its] just the energy. Obviously the music, the people." Similarly, Lucy Taylor '21 noted that she had "great experience[s] at the Franklin Music Hall, The Foundry, and Union Transfer" and that "ticket [prices] depend on [the artist] but [its] relatively inexpensive." So why not check out the local concert scene? Spare time, friends, and some spending money is all you need. 
     Search no further, music lovers, because Philly and Wilmington's late October to mid November concert lineup is sure to satisfy ever music taste. No, you have not been excluded you rap, country, pop, indie, and metal lovers. Here is just a sampling of what's to come to venues near us: