Club Spotlight: Spirit Committee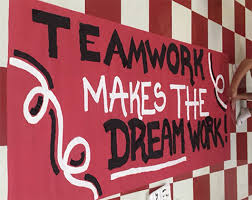 As Wilmington Friends School's Homecoming approaches, the members of Spirit Committee are working hard to plan the many events that Homecoming entails. Spirit Committee is one of the most popular clubs in the WFS upper school, run by many clerks due to the large amount of factors that go into planning Homecoming. Not only is there the day of Homecoming, consisting of sports games and activities, but there is also "Spirit Week," the entire week of school leading up to the day of Homecoming, as well as the Homecoming dance held the night of Homecoming for 9th-12th graders. Since Friends has been around since 1748, naturally WFS has their share of traditions that students and parents look forward to every year. While the clerks of Spirit Committee must organize these, their hardest job is creating new and fun ways to expand on Homecoming, while still reaching back to WFS's roots and celebrating the old traditions. It is important for the clerks to find a healthy balance between age-old traditions and new ways to make Homecoming enjoyable for everyone involved.
   This year, Spirit Committee's clerks are Alice Irwin '18, Jay Handwerk '18, Katrina Nix '19, Alonia Needs '19, Emma Landis '19, Carson Davis-Tinnell '19, Honor Dearlove '19, Olivia Finizio '19, and Dani Nathan '19. While there are many clerks, there are also many jobs to do, decisions to make, and goals to achieve. One significant source of controversy is the "Role Call," often performed at the Middle and upper school pep rally. The "Role Call" consists of calling out the names of each varsity sports captain, followed by a joke or clever line about the person. It is put to a rhythm and has been a part of the pep rally for a long time, except for last year. Its controversy centers around the fact that it does not include everyone, and most middle schoolers do not relate to it. Alonia Needs '19, co-clerk of Spirit Week for Spirit Committee, commented, "I want to keep 'Role Call' because it's fun, and I want to have it when I'm a senior. I think we should change who is involved in it to get more people to participate and show our school spirit. I think it's a great way to get the school excited about the games on Saturday!" One of the main goals of Spirit Committee meetings is to settle controversies like these, because many people have strong and varying opinions regarding such traditions.
  Another common topic around school right now is the Homecoming dance. In the past, students have shared diverse outlooks about the dance. Nix explained her viewpoint on the differing opinions: "I know in past years people haven't come [to the dance] for various reasons. We want to make a more interactive theme so everybody will have a good time. We want to improve aspects [of the dance], but we made sure to keep what worked such as the food, the photo booth, and the games last year." Nix and Nicholson are approaching the Homecoming dance planning in a way that will hopefully allow all those attending to have a fun time and look forward to Homecoming dances in the future. They are dedicated to not only bringing in new additions that will contribute to the overall enjoyment of the dance, but also continue on the things that have worked in the past. Spirit Committee is making the effort to reflect on the feedback they have received about previous Homecoming dance experiences so that they can hopefully make this one the most successful dance yet.
  This year the ambitious group of clerks of Spirit Committee, along with the members, are putting together an exciting week of events characterized by inclusive and engaging activities and themes. Everyone in Spirit Committee is working hard to make this possible, so make sure to show school spirit and come out on Saturday, October 28th!