Poetry Speaks: Cecilia Ergueta is Victorious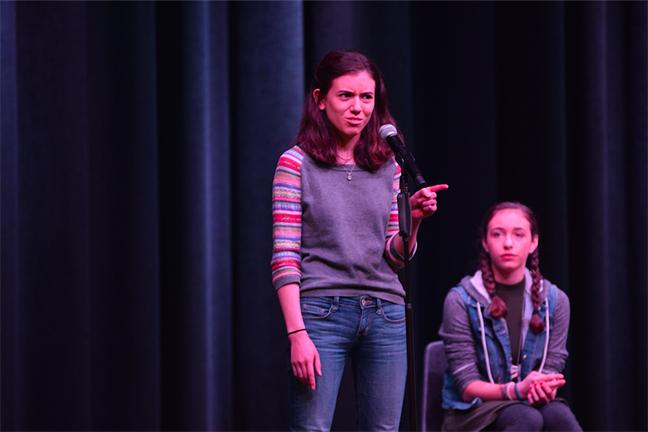 Wilmington Friends School's annual poetry competition, led by the "Poetry Speaks" club, was held Tuesday, January 10th, 2017. This competition entailed three students who recited aloud two poems of their choosing. These students were competing for a spot at the state competition, which leads into the regional poetry competition, and finally nationals. It was a fierce competition, judged by the Wilmington Friends upper school English department, and the verdict on the winner was not an easy one to decide.
The three competitors this year were Chase Fallon '19, Bella Stuccio '19, and Cecilia Ergueta '18. All three competitors showed intellect and passion, but Cecilia Ergueta ultimately won the competition.Competitors were allowed to choose their two poems that they were to recite to the school on Tuesday. Ergueta chose to recite "The Nail" by C.K. Williams, and "Thoughtless Cruelty" by Charles Lamb. When asked why she chose those two poems, Cecilia commented, "As soon as I saw "The Nail", I was hooked. It's a fantastic, but highly unsettling poem and my only hesitation was that I would not do it justice. I chose "Thoughtless Cruelty" to balance out the profound eeriness of "The Nail", because it's a much more lighthearted and regular poem." For some, poetry can be quite boring, but it is obvious that for Cecilia Ergueta it is not. Cecelia said poetry is  "a way of using words and language to create exquisite art for the mind and soul", but poetry means something different to everyone. Another competitor, Bella Stuccio '19, commented, "I like reciting poetry because it brings a sort of comfort to know that if I'm ever stressed or in a bind, I can recite something to myself to cheer me up or calm me down".  Bella and Cecilia both recommend joining this club!
Ergueta describes the Poetry Speaks club as "One of the hidden gems of Wilmington Friends School". The Poetry Speaks Club meets on Day 7 in English teacher Jake Rashkind's  classroom, and anyone who is has ever been interested in or inspired by poetry is highly encouraged to join. Club members do not have to compete, as preparing for the competition is very time consuming and not mandatory. This year's winner, Ergueta, commented "It takes me about 3-4 days to learn a poem by heart, but to really know a poem you have to repeat it another 50 or so times more after that until it becomes as familiar as the alphabet. The real test on competition day is the nerves, so knowing the poem with the utmost confidence is a must". However, if a student would still like to read a poem out loud to the school, there is another option. On the day of the poetry competition, anyone who would like to read or recite a poem to the school is allowed. Maggie Coons '19, who chose this option, said, "I was going to compete but because I was so busy I did not have time. It was a good option because I didn't have to deal with the stress of memorizing the poems and reciting both."
This year's poetry competition was one of the best ones yet. Good luck to Cecilia Ergueta as she moves on to the state competition!