Carrie Fisher's Lasting Legacy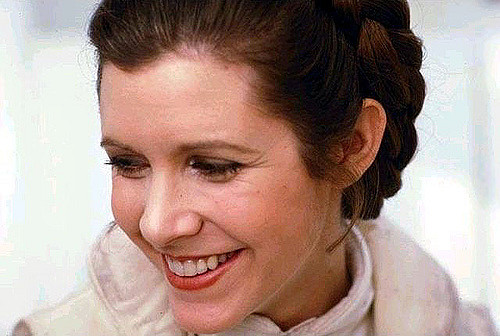 Matt Byer, Entertainment Writer
March 5, 2017
The clamor of blaster shots and lightsaber swings are a hallmark of the epic science-fiction series Star Wars. Even to those who have not seen the movies, these distinguished noises are familiar. One of the many iconic characters from the Star Wars films is Princess Leia, who was played by the late Carrie Fisher in episodes IV, V, VI, VII, and VIII. Fisher died on December 27, 2016, aged sixty, after suffering from a medical emergency while on a flight to Los Angeles, and her death has had a lasting impact on her fans, the entertainment world, and the WFS community.
Naturally, the reactions to Carrie Fisher's death were negative, especially the fans of the Star Wars films and of her other works. Star Wars, being an extremely influential franchise, was essential in establishing Fisher's name as an A-grade actress. If someone knows who Carrie Fisher is, it is more than likely that they discovered her through the science-fiction series. Jay Handwerk '18 commented, "I watched all of the Star Wars movies when I was younger. It's an important franchise and it has a lot of meaning to a lot of people." Handwerk added, "Carrie Fisher was a big part of those films and it's sad that she's gone now." Douglas Nie '18 also shared his thoughts, "Carrie Fisher was one of the faces of Star Wars. She was really important and although she died, those movies will make sure she isn't forgotten." The sadness surrounding Carrie Fisher's sudden death is predominantly due to her status as an icon and the legacy she left behind, a legacy that spans generations.
Since the first Star Wars film, Star Wars: A New Hope (now referred to as the fourth film) premiered in 1977, and the series has continued progressing, the movies have touched the lives of many and garnered millions of fans of all ages. "I've been a fan of Star Wars since I grew up watching the saga. It's been an important part of my life and I've seen the movies too many times to count," said Ethan Moser '17, "I was blindsided by Carrie Fisher's death because she was so full of life and even after she was admitted to the hospital, there were reports that she was doing better. She has really become an icon and she'll always be one of the most well known princesses in popular culture." Evidence of Star Wars's generational reach are the faculty responses, which reflect those of students: dejection and shock. "It hit me hard. She was very much a role model for my generation," Mary Woodward expressed, "We've just started to have some strong, female role models, but so often, with how women are portrayed in entertainment, they seem feisty, but are ultimately dependent on the man. The man always came to the rescue and stuff, and there even was a little bit of that in Star Wars, but she was tough. She was the princess and she could fight." Carrie Fisher's presence in the franchise and in pop culture didn't stop with the original movies. She remained in the minds and hearts of many before she passed away. "Later on, seeing her as an adult, and especially after she passed, I began realizing that she was definitely a role model for my generation," Mary Woodward went on, "I saw the newest Star Wars a week [after she died] and at the very end of that––spoiler here––she's in it. And both my daughter and I just burst into tears."
Months after Carrie Fisher's unfortunate death, emotions surrounding the event are still high. It was sudden and tragic, however, people will never forget the legacy she left behind. She was an incredibly influential member of the entertainment world. Carrie Fisher was an icon, role model, and an essential part of the Star Wars franchise. She has left a great legacy in the entertainment community and in the world.