The Creation of Alexa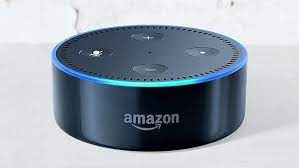 What has our world become? A world of little robots taking over? The answer to that is yes. New technology is shifting into the world with the benefits of only advancing our society. Technology is our future. Alexa is the path towards a new future. 
Jeff Bezos first sketched the smart device "Echo" on a whiteboard in a conference room in early 2011. Today, the original Amazon Echo speaker sits at $179.99. Originally, Jeff Bezos wanted the Echo, controlled by the virtual assistant to cost $20 and be controlled entirely by voice. Bezos named the virtual assistant Alexa after the ancient library of Alexandria. After the sketch of the future Alexa, Jeff Bezos remained certain that this product would change the world. The next 3 years, Bezos authorized the investment of hundreds of millions of dollars. Bezos stayed close with his Alexa team and even met with them every other day. Just as everything was starting to come together, Apple introduced their voice activated personal assistant, Siri. On October 4th, 2011 Siri was brought to the public. The day after, famous entrepreneur, inventor, and co-founder of Apple, Steve Jobs passed away at the age of 56 due to pancreatic cancer. Bezos' team felt discouraged given that Siri was the first voice activated personal assistant and that Siri initially gained some negative reviews. Bezo believed that Alexa was different and unique given that it is independent compared to Siri, which is smartphone based. The Alexa was initially released on November 6th 2014. In 2018, Amazon sold over 100 million Alexa devices alone. 
Wilmington Friends School takes pride in using Apple laptops every school year for the benefits of enhancing the schools learning. Tech might be used everyday in school. But what about outside of school? Jillian Farley '25 is said to be "always on a device" yet at home Alexa is not the most used device in the household. Farley said she uses the Alexa "Not often at all. Maybe once a week". Lulu Cochran '26 is quite the opposite. Cochran is known for using her Alexa to "listen to Taylor Swift". Cochran said "Mmm like three times a week". Students find Alexa to be "accessible and easy ". Jenks is the Computer Science Teacher at WFS. For Jenks, he uses Alexa every day. But one encounter with Alexa did not go as expected. Jenks said "One time my family left time and Alexa started asking me personal questions and it was only after they left that Alexa started asking me personal questions and it was so creepy that I unplugged it. Alexa said things like I haven't met you yet and what's your name?". Across the door from Jenks is new nurse Kate Griest. If Griest were to get a free Alexa for Christmas she would say no. The reason may sound odd? Simply because "I wouldn't use it. I watch the weather channel on tv". 
Today, Alexa is one of the most used independent devices in the world. Some people love it and some people don't bother purchasing it. It all depends on you and what you prefer. Whether that is kicking it old school and watching the weather channel on tv or waking up Alexa and asking her what the weather is. Ultimately, The Alexa is one of the most helpful devices out there. From here, Alexa is only enhancing our society.