Spring Sport Update at Friends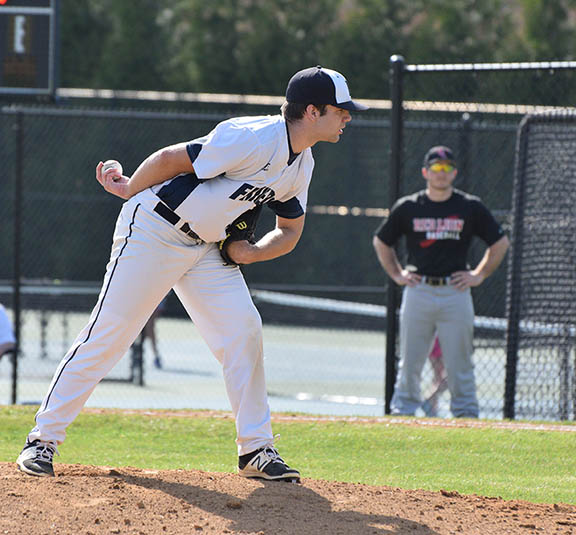 Hang on for a minute...we're trying to find some more stories you might like.
Despite the wildly unpredictable weather this spring, a constant at Wilmington Friends has been the students' devotion to their sports. The start of spring sports may feel like it was only a few weeks ago, but in reality they are all nearing their final competition dates. The enthusiasm and success in WFS spring sports has made this a season to remember for many sports. The spring season is both a final chance for seniors to play for Friends and a great opportunity for younger students to have an impact on their respective teams. This spring has been full of thrilling games, historic feats, and most importantly a strong sense of sportsmanship and community.
The girls' lacrosse team is known as a well-respected program throughout the state. Despite having a tough season with a record of 5-8 the girls have persevered to show their grit and talent. The team's talent has shined throughout the season, especially through a three game winning streak. The upperclassmen on the team have been proud of how close their team has grown, and much of the team's success has been driven by this coherence between teammates representing all grades. One of the most notable accomplishments of the season has been two seniors, Blair Atkins '17 and Simone Veale '17, scoring their hundredth career goals. This is a landmark achievement for Atkins and Veale, and it has been a point of pride for the entire team. Captain Blair Atkins '17 believes that this achievement has helped inspire younger members of the team: "Having two players reach one hundred goals this year motivated the team more and helped us to keep going throughout our games. I think it gave younger players a goal to aim for." The girls' last game is on Thursday, May 11th, at home, and they hope to have a big turnout on their senior recognition night!
This spring's baseball season has given both an optimistic glimpse to the future of the team and a good ending to many seniors' careers. When the current seniors finished their first season, the team had a record of 3-15. This season, the team has a much improved record of 6-7 with many potential wins left in the season. The improved record speaks for the hard work of the team's upperclassmen to turn the program around, along with the help of several key young teammates. The future looks bright for the baseball team; Joey Mullen '19 commented: "I'm excited to see our young players continue to build chemistry with each other. Baseball will continue to be on the rise that our seniors started, and we look forward to getting even better." While it's nice to think about the future of the sport, this season is certainly not one to be overlooked. A highlight for the team was a win over their rival, Tatnall. They will face Tatnall in a rematch for their senior recognition game, which is on May sixteenth.
While many would assume that the track team lacks spirit due to the sport's individuality, their assumption is quite far from the truth. The track team has a large number of state qualifiers this season, an uncommon thing for small schools to achieve. With such a strong showing at the prestigious state meet, all eyes will still be on sophomores Dani Nathan '19 and Connor Nisbet '19. This year they can expect company from their teammates in the spotlight with many members making great improvements throughout the season in order to qualify. The schedule for track is different from most sports, and Donovan Aldridge '18 helped explain the remainder of the season: "We just finished our regular season, so we are looking towards counties and states. Counties is this Friday [May 12th] and Saturday [May 13th]  and are held at Charter. This is the last opportunity to qualify for states and myself and others are looking to make some noise on both days to get in. States will be held at Dover high school on May nineteenth and twentieth. Last year Connor and Dani Nathan both made it to the meet of champions which is held after states for those who had the best recorded times or distance or height in their respective events at states. The meet of Champions is held on May twenty fourth at Dover High school." The track team hopes that the school can join them in support on these important dates!
The Friends tennis team has gained a reputation as one of the better teams in the state, and both the boys and girls teams have continued this tradition. In the past the team has been known for having a single star player, but this season the tennis team has depended more on their closely knit team to earn their wins. Captain Sarah Balick '17 had this to say about the girls' season so far: "The season has been pretty good with our 8-5 record, which is great considering 5 out of our 7 varsity players graduated last year. The next big thing for us will be Alicia at states. She was varsity doubles for 3 years (and a former double state champion) and she's had a fantastic season at 3rd singles. I think she might have the chance to become a state champ again. It will also be exciting to see how the underclassmen do next season" While the boys team has a slightly worse record, they have also enjoyed a good season. Despite their 5-8 record, many players are looking forward to states. Ryan Chompre '18 noted how important the end of the season is for his team while summarizing their season so far: " We have had several close losses, most notably against St. Andrews and Charter. Our most memorable highlight was against our rival, Archmere, in which we won 3-2. Looking ahead, the state tournament is just two weeks away.  The two remaining matches in the season are crucial in determining our seedings in the tournament." The girls will face off against Newark Charter in their final regular season match on May fifteenth, and then the players will test themselves against the rest of the state.
The girls' soccer team has bounced back from a slow start of 1-3 to a strong record of 8-3-1. This rebound has been highlighted by the fact that the team has gone on an eight game winning streak, including a dramatic tie with rival Tower Hill. The team is now in close contention for both a conference championship and a playoff spot. The team has their senior recognition game against Sanford on May 11th, their final conference game. The team has been carried by the hard work of upperclassmen who have been playing varsity their entire high school careers. Captain Sloan Maas '18 expressed her pride in this year's team: "I'm very proud of how far we've come as a team, and I think our success comes from our closeness as a team. We have a lot of talented players, and we can always count on someone to step up when we need a big play. We've already won more games than we did last season, and I'm looking forward to the future of the program." The girls look forward to hopefully representing the entire WFS community as they play for a spot in the postseason.
This year's boys' lacrosse team has started hot with a record of 10-0, and they look to their depth and coaching for continued success. There was doubt throughout the state about whether a freshman goalie could fill the role Jakob Katzen '16, but Wyatt Skinner '20 has proven them wrong. The team has contributors from every class, and a strong senior core to lead the players. While many would highlight the team's prolific offense as a highlight, many of the players are more focused on what they can do to help others. Several players have held key roles in running the first juvenile detention lacrosse team at Ferris, and others volunteer at a Hilltop clinic program. By focusing on the team and the broader community, the Quakers have not been bogged down by the selfish play that often plagues high school teams. The boys will face off against Tower Hill on Friday, May 12th under the lights for the conference championship. While outsiders are speculating over a deep run in the playoffs for the team, the players and coaches are only thinking about the next thing up. Captain Eric Pincus '18 spoke about the focus and desire that his team has while talking about the season: "Last year's team saw great success, but there's something different about this year. While we do still have fun and joke around, we take every practice and game very seriously. We understand that if we buy into the coaching and give it our full concentration, we can get the most out of our potential. By looking only at what's immediately in front of us we've been able to avoid getting caught up in the bigger picture. We just want to keep our heads down and keep working." The team still has five games left, including their senior game against Cape Henlopen on May 17th.
Through both success and tough seasons, every Quaker team has shown how much a team can accomplish through hard work and perseverance. With many teams contending for playoff spots, support is now crucial to each team's success. Regardless of the final record for each team, it is encouraging to see such a broad mix of students working together towards a common goal. Go Quakers!